A FLEXIBLE AP AUTOMATION PLATFORM – WITH BUILT-IN AI
Discover the future of accounts payable automation:

Increase accounts payable efficiency and accuracy
Contexture AP Automation uses cutting-edge artificial intelligence and machine learning algorithms to automatically capture, validate, and process invoice data. By eliminating manual invoice data entry, your team can focus on more strategic tasks while Contexture ensures greater accuracy in your accounts payable process.
Process invoices up to 100x faster than manual methods.

Save time and money on invoice processing and management
With Contexture AP Automation, you can significantly reduce the time spent manually keying in invoice data, matching and validating invoices, and importing invoice data to your ERP. Eliminate common data entry errors. Ensure your financial records are consistently accurate and up to date.
Starting at only $1/invoice, Contexture AP Automation will save the average company up to 90% on invoice processing costs. Process 1,000 invoices/month? You'll save $12,000 per month!

Configured to fit your accounts payable workflow
However you work, Contexture AP Automation has you covered. The platform can receive and process invoices via scan, fax, email, and drag-and-drop files. Using a range of optical character recognition (OCR) tools, Contexture captures and extracts key data fields and validates them against PO, vendor, and shipping information in other systems. Our robust rules engine ensures that vendors are approved, all required fields are present, and detects any duplicate invoices.
We offer an industry-leading 99.5% accuracy guarantee on OCR data extraction.

Centralized, cloud-based access to your invoices
Contexture is a cloud-based platform that provides you with secure, cloud-based access to manage your accounts payable from anywhere, at any time. This means no need for expensive hardware or software installations. You can easily scale the invoice automation solution as your business grows. Contexture is built with state-of-the-art encryption and security measures, ensuring your data remains secure and protected.
Automated 3-way matching (invoices, POs, shipping documents)
Invoice information is automatically matched and validated against data in your existing ERP systems, including vendors, POs, and shipping information. Any exceptions are flagged and can be reviewed by your AP Team or be fully managed by ours. Best of all, matching learning enables Contexture to learn over time and know where key data fields are located.
Streamlined, cloud-based approval workflow
Once validated, invoices can be routed for online manager approval using your rules. Approved invoices can then be automatically exported to your ERP system (e.g., Oracle NetSuite, Dynamics 365 Business Central, Acumatica, Sage Intacct, Odoo ERP, Epicor, SAP S/4HANA Cloud, Jonas Construction Software, Yardi Voyager, Yardi Breeze, Infor Syteline, Trimble Viewpoint, Paradigm Nexus, and others).
Eliminate manual invoice data entry in your AP process
Faster data capture and extraction
Cost savings on invoice data extraction and validation
Monthly savings on 1,000 invoices per month
Accuracy guarantee with OCR and human validation
Automate your AP process in 4 easy steps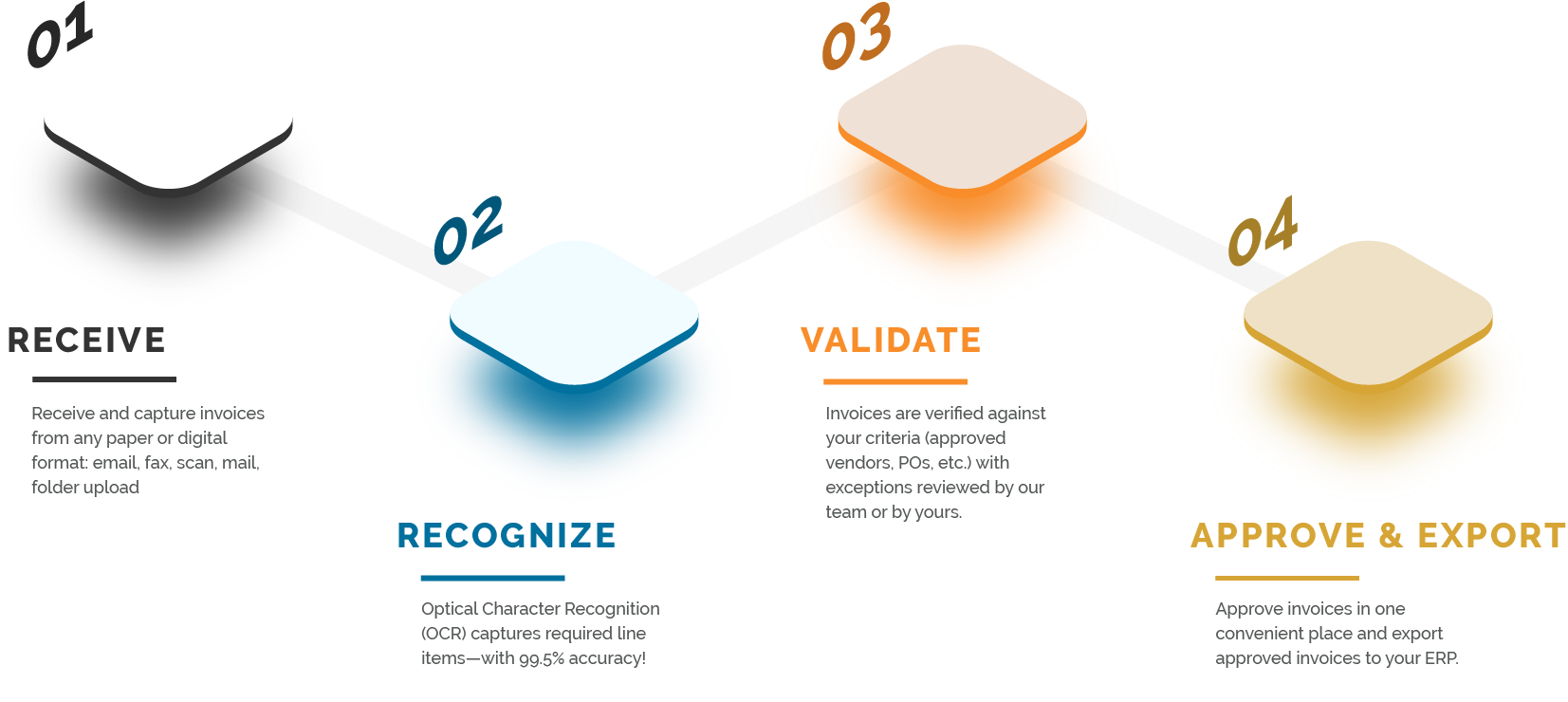 The Essentials
$1 per invoice includes:
Invoice template creation
Targeted invoice data recognition
Pre-authorized invoice approval process
Formatted CSV for ERP importing
Custom invoice configuration + testing
Ongoing client support and training